Stone Buddha ornament Guanyin
Product Description
The commonly used materials of Buddha sculpture are mud, copper, wood, stone, etc. Buddha sculpture is a kind of Buddha Statue for people to worship. Therefore, the construction of ancient Buddha sculpture requires stone carving into stone Buddha statue, which makes Guanyin sculpture durable, resistant to weathering, corrosion, and has a long storage time. Stone Buddha statues are quite common. Stone Buddha statues are one of the types of stone sculpture and have been handed down for a long time. Early Buddha statues are mostly found in stone mountain carving. Buddha statues are traditional Chinese art. Chinese made Buddha statues are often used to be worshipped in temples. The shape and appearance of various Chinese Buddha statues are quiet, peaceful and solemn. China is a Buddhist country, and Chinese Buddha statues are generally bronze, It indicates a sincere belief. The material is generally stone, such as the world-famous Longmen Grottoes, so it is also called Stone Buddha.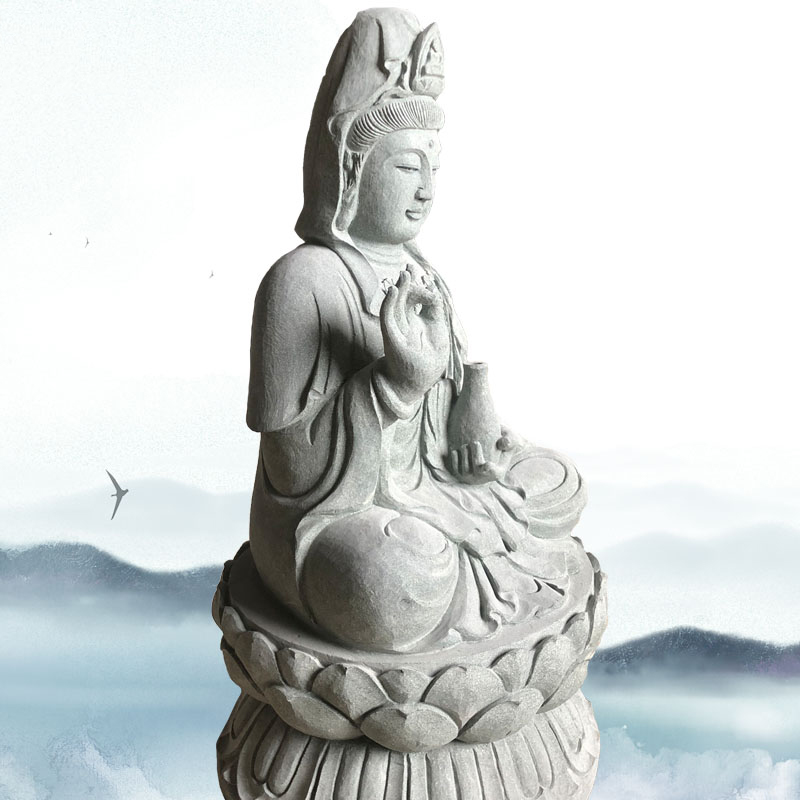 How much do you know about stone carving?

Stone carving refers to the art of creating visible and touchable stone art of art with a certain space by using various kinds of carved and engraved stones to reflect social life and express the artist's aesthetic feelings, emotions and ideals.

Stone carvings, stone carvings and other stone crafts are generally divided into round carvings, reliefs, sunken carvings, wall carvings, hollowed out carvings (openwork carvings), line carvings, shadow carvings, micro carvings, intaglio carvings, and sun carvings according to different production methods. Each has its own characteristics and unique styles. Common stones include granite, marble, bluestone, sandstone, etc. Stone is hard and weathering resistant, and is the main material of large-scale memorial sculpture.

The history of stone carving begins with the origin of human art. It can be said that there is no art form that is more ancient than stone carving, and there is no art form that is more popular and lasting.


The universe in the stone is great
This website is a comprehensive service brand for appreciation, exchange, transaction and cooperation of works of art, handicrafts, jewelry, famous paintings, luxury goods, etc. around the world, with Chinese cultural works of art as the core, established by Yuanyidao Technology Co., Ltd. for global consumers.

Large auctions in spring and autumn are held regularly every year, as well as the "Heaven and Earth in Stone" auction and online auction. The company is headquartered in Chongqing and has liaison offices in Shanghai, Guangzhou, Nanjing, Hangzhou, Hong Kong, Taiwan, China, Japan, North America and other countries and regions. So far, the total auction turnover of China Yuanyidao has exceeded 100 million yuan, and thousands of cultural artworks have been handed down and transferred here. After years of efforts by Yuan Yidao, many treasures of national treasure level masters, such as Wang Jingen's "Love of the Sea", "Ancient Bamboo Longevity Spider", "Green Bamboo Golden Bull" and other important auction pieces, have either returned to the mainland from overseas or moved to important collection institutions from the private sector. Yuanyidao lots purchased and collected by museums and art museums over the years, and art museums purchase and collect them.

Yuan Yidao has always adhered to the ethics of the industry, pursued the direction of professional services, complied with the rules of benign competition, advocated self-discipline in the industry, actively cooperated with the government administration to explore the development ideas of cooperation and exchange of cultural works of art, and participated in and promoted the introduction of a series of policies and regulations such as the "targeted auction" of domestic rare folk cultural relics and the "repatriation of overseas cultural relics". For a long time, Yuan Yidao has also actively participated in charity donations and art education and other public welfare activities, winning support and trust inside and outside the industry. During the COVID-19 in 2022, Yuan Yidao actively participated in epidemic prevention volunteers, providing practical help for regional epidemic prevention.

Today, Yuanyidao is not only one of the most influential cultural art trading platforms in China, but also a leader in the global auction of Chinese cultural art. In the future market competition, China Yuanyi Taoist Association will continue to adhere to the core values of integrity, justice, fairness and openness, and promote the sustainable, healthy, transparent and stable development of the Chinese culture and art market.

Company Name: The universe in the stone is great
Representative: minda Da
Product/Service: Antique Store , Meditating Buddha , Pen Holder , Wood Carving , Wooden Crafts , Antique Mall
Capital (Million US $): 1000000RMB
Year Established: 2021
Contact Person: Mr. daimingda
Tel: +86-023-19112186195